ANNOUNCEMENTS
Trail System continues to Grow and Connect Springdale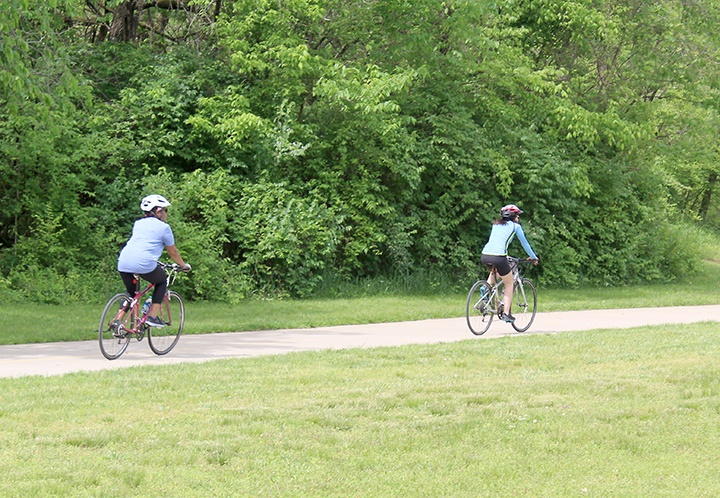 The trail system continues to grow in Springdale and throughout Northwest Arkansas, with the end goal of providing residents with a more efficient and healthier mode of transportation while also expanding recreational opportunities.
"Ultimately we want to create a system where people can go almost anywhere they want without ever leaving the sidewalk or getting in a car," said Zach Walls, Springdale Parks Superintendent. "In the end, the overall plan is to funnel everything to downtown Springdale. In the grand scheme of things, it's like a big square with Downtown Springdale in the middle."
The revitalization of downtown has been under way, with the expansion of Luther George Park, and the new landscaping around Walter Turnbow Park and the surrounding businesses. A big advantage is having the Razorback Regional Greenway going right through town, north to south. Now, the city is structuring its trail system to connect the east and west sides of Springdale.
"The main focus of the Trails Committee is to expand the overall Springdale trails system, while connecting our communities to all of the event venues and everywhere else you need to go," Walls said. "The timeline is based on a Master Trails plan that continues to evolve and expand."
Springdale currently has seven parks and has begun construction on the eighth park, Shaw Family Park, on the northwest side of Springdale. All parks are maintained by the city's Parks and Recreation Department. Activities at these parks include fishing, biking, skateboarding, picnicking, and much more.
Springdale also has 10 miles of some of the most beautiful trails and pathways in Northwest Arkansas. The 37.6-mile Razorback Greenway runs through Springdale, between downtown and Lake Springdale. The trail system includes the Shiloh Trail, and the city is working to expand the system with the Pride of Springdale Trail and Dean's Trail.
When the Dean's Trail is completed it will loop around and connect to the Botanical Gardens. The Spring Creek Trail, which is being constructed now, will connect to the new Arkansas Game & Fish Nature Center, which is scheduled to open in October just off Interstate 49 at the Wagon Wheel Road exit. The Pride of Springdale Trail will connect to everything on the west side of Springdale, and there has even been discussion about a trail that connects Fitzgerald Trail to the Jones Center.
The new trails will spider through the outlying areas and will eventually lead to the center destination downtown. Bridges or tunnels will be used to create a safe pass to cross any main thoroughfares, such as the tunnel that will allow the Dean's Trail to safely cross Highway 412.
The trail system traffic has picked up of late, especially with the Covid-19 pandemic and social-distancing guidelines. Avid bike-rider Tanner Spangler uses the trails daily for outside recreation, as well as a way to get around.
"I think it's just a great way to get out of the house and do a leisurely workout that keeps me healthy, while abiding by the social-distancing guidelines," Spangler said. "I really enjoy getting out and enjoying the trails and nature. I will go for miles without even noticing how far I've ridden.
"It's great that I can get out on my bike and ride to so many local establishments, even into Fayetteville. They have made it really easy to access places without getting in the car."
For more information on the Springdale trail system or any of its routes, go to SpringdaleAR.gov
Youth, Adult Summer Basketball, Youth Flag Football seasons canceled
In light of guidelines set for team sports and indoor venues by the state of Arkansas and the Arkansas Department of Health, Springdale Parks and Recreation must unfortunately announce the cancellation of the Youth and Adult summer basketball seasons and youth summer Flag Football.
We are still assessing these guidelines and hope to provide summer programming that meets the state's regulations. Under consideration include late summer and early fall academies and both youth and adult leagues.
We will provide updated information on future summer programming as soon as possible.
Update from Springdale Parks and Recreation
The Springdale Parks and Recreation Aquatic Center will be opening on June 8th.
The State's directive for opening pools does not cover social events held at the
pool. With this in mind, we will not be taking reservations for pool parties
until further notice. Also, with social distancing in mind, we are not going to be opening registration for swim lessons until further notice.
The following are restrictions that will be placed upon the Aquatic Center by the State of Arkansas until further information is received from the State.
1. We will be limiting the capacity.
2. One gate at the main entrance will be used for entrance and the other will be used as an exit.
3. Names will be recorded for all patrons upon admissions.
4. Employees will be screened for fever and other Covid-19 symptoms daily.
5. Patrons will not be allowed to enter who have had a fever in the last (2) days, have had contact with a person who has been infected with COVID-19 in the last (14) days, or is exhibiting symptoms of COVID-19 themselves.
6. 6 feet Social Distance between all patrons with the exception of families.
The Springdale Aquatic Center will be open Monday- Saturday from 12:00 pm to 5:45 pm and on Sunday from 1:00 pm to 5:45 pm.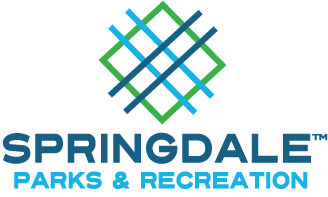 Eagle Scout Project a nice spruce-up at Lake Springdale
The landscape around Lake Springdale just received a spruce-up, with the addition of five hand-crafted picnic tables that now surround the water, just north of J.B. Hunt Park.
The tables were constructed from scratch and donated by 14-year-old Springdale resident Ben Presnell, who recently completed the project to become an Eagle Scout.
The Eagle Scout Service Project, or simply "Eagle Project," is the opportunity for a Scout to demonstrate leadership of others while performing a project for the benefit of his community.
"For my project, I decided to partner up with Springdale Parks & Recreation and make picnic tables for people to enjoy around the lake," Presnell said. "It's a project that I think will benefit our community for a long time."
The youngster even took it a step farther by making one of the tables handicap-accessible for wheelchairs.
"Ben did a great job on these tables, and we are very appreciative that he chose to help out his community through the Parks & Rec department," said Zach Walls, Springdale Parks and Recreation Parks Superintendent. "The tables look great out there, and are giving people a place to sit and gather while they enjoy the lake."
Presnell is a rising sophomore at the Don Tyson School of Innovation and has been a Boy Scout for three years. He did the project himself, with minor assistance from fellow troop members and church members to help carry the wood and other basic tasks.
He funded the project himself and began by actually going in the woods and cutting down trees. He then milled the trees into lumber and cut each piece to specification.
"The project taught me a lot about responsibility, because I had to take the initiative and do this project myself," Presnell said. "But the biggest thing this project has taught me is probably leadership. It helped me learn how to organize a project and lead the people who were helping me, and keeping everyone motivated."
Eagle Scout is the highest achievement or rank attainable in the Scouts BSA program of the Boy Scouts of America (BSA). Since its inception in 1911, only four percent of Scouts have earned this rank after a lengthy review process. Requirements include earning at least 21 merit badges, and having the Eagle Scout demonstrate Scout Spirit, an ideal attitude based upon the Scout Oath and Law, service, and leadership. This includes an extensive service project that the Scout plans, organizes, leads, and manages.
Past Eagle Scouts include former U.S. President Gerald Ford, movie director Steven Spielberg and Walmart founder Sam Walton.
Anyone interested in partnering with the City of Springdale, for a service project through Scouts or other civic groups, can contact Parks & Recreation at (479) 750-8185.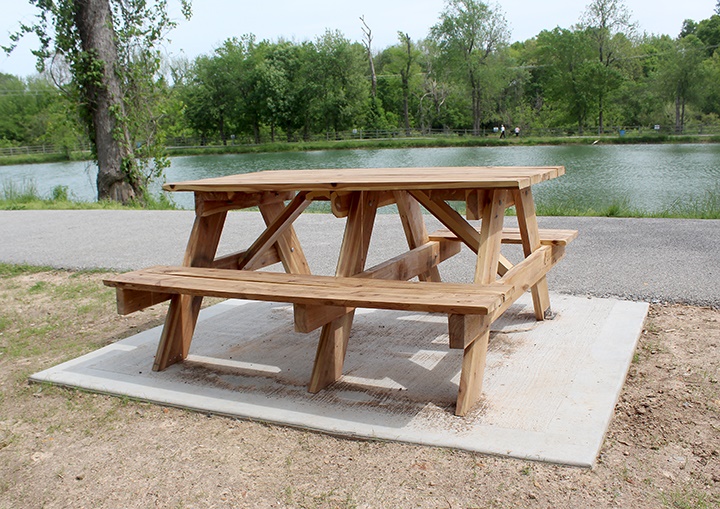 'J Beast' Award A-Tier Tournament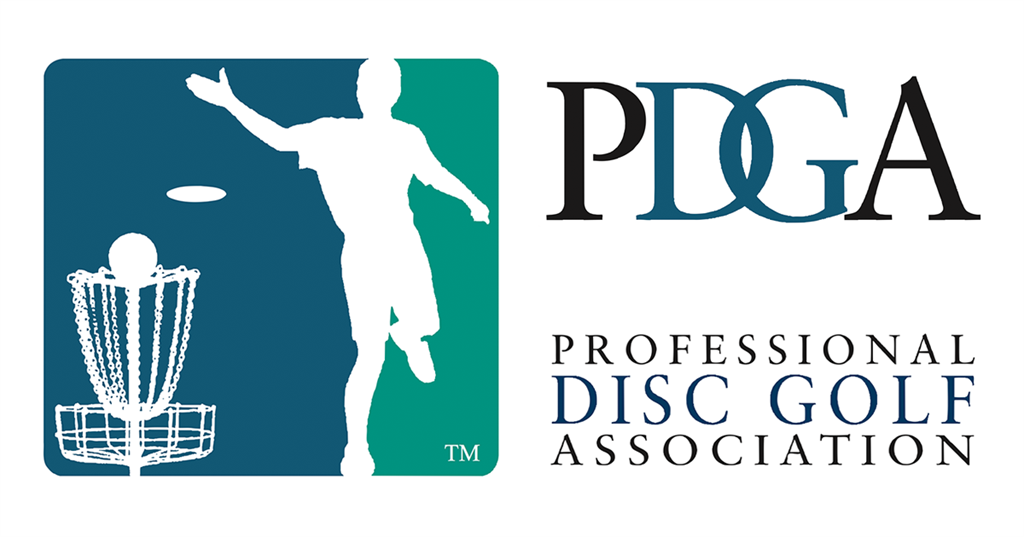 'J Beast' Awarded A-Tier Pro Tournament by PDGA
By Steve Andrews
Springdale Parks & Rec
When the City of Springdale decided to go all-in and redesign its disc golf course in 2016, Matt Loyd envisioned big things for the future.
Loyd is the owner of the Dynamic Discs pro shop, located on the J-Beast course at J.B. Hunt Park, and is hoping to make disc golf a mainstay throughout Northwest Arkansas.
After expanding the course and hosting some smaller tournaments over the past three years, Loyd's plan has now taken its first giant step forward. J-Beast has been awarded its first A-Tier professional tournament by the Professional Disc Golf Association (PDGA), to be held in the fall of 2020.
"The A-Tier is the largest tournament that the PDGA awards, without it being a national tour stop," said Loyd, who will also be the tournament director. "When the City of Springdale committed to making this into a nice, quality course three years ago, that's when we started to get the ball rolling on hosting some of these events."
The tournament will be Northwest Arkansas Open, which has been held the past two years as a smaller local and regional event, but has grown enough for Loyd to apply for an A-Tier event. It was awarded on his first application.
The added stipulations for the higher-level professional tournament include certain financial incentive to the players. The amateur division has to provide a player pack worth 100 percent of the entry fees, and the pros have $3,000 added to the total of the entry fees. The course also has to meet A-Tier standards, including a quality set of tee pads, baskets and signage, in addition to other things, such as enough parking and access to hotels.
"Northwest Arkansas has everything to offer when it comes to the amenities for visitors," said Loyd, who has already directed 70 PDGA tournament events. "It also helps if the PDGA knows the tournament director and knows the disc golf scene in that area, to be able to trust them to give them an A-Tier level event."
The three-day tournament should bring in between 150-200 participants, from all over the country, according to Loyd, who also expects 10 or more states to be represented.
"That added cash brings a lot of people in," Loyd said with a chuckle. "People will travel a long way, knowing there is $3,000 added cash to the pot."
He is also working with the surrounding cities to possibly accommodate the large number of disc golfers that want to participate in the event.
The final day of the tournament will be held at J-Beast, and the pro shop will be the headquarters. But, depending on what new courses get built between now and then, some of the tournament may be held in Fayetteville, Farmington and possibly Rogers.
"It all depends on what we are able to do and how the courses look next year at this time," Loyd said.
He is ultimately hoping that the area can eventually host a national or major tour event, which would bring in 500-600 disc golfers, who would stay in the area almost a week – bringing in up to $1 million to the local economy, through food, gas, hotels and entertainment.
"That's even another step up in quality of course, and it would take the cities continuing to support disc golf and really having a vision of where this could go," Loyd said. "That's just seeing the big picture of what we are trying to accomplish with the disc golf scene in Northwest Arkansas. Getting this A-Tier is such a huge step for us."